A.J. Khalil, MD
Board Certified Plastic Surgeon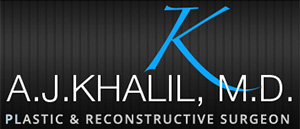 436 North Roxbury Drive
Suite #207
Beverly Hills, CA 90210
(323) 856-1941
Serving patients seeking eyelid surgery (blepharoplasty) in Beverly Hills and the surrounding area
A.J. Khalil, MD is a board-certified and fellowship trained plastic and reconstructive surgeon serving patients in Beverly Hills and the surrounding area. Known for his exceptional surgical technique and natural artistic eye, Dr. Khalil has helped hundreds of patients achieve safe and natural-looking plastic surgery results. All procedures are performed at his state-of-the-art surgical facility, which was designed with patient safety and comfort in mind.
Dr. Khalil is trained and skilled in various facial rejuvenation procedures, including eyelid surgery. Also known as blepharoplasty, eyelid surgery corrects excess skin on upper eyelids, which can create a tired and older-looking appearance or droop so low that it interferes with the line of sight. The procedure can also treat lines, wrinkles and puffy bags that develop under the lower eyelids. Following eyelid surgery, the eyes look brighter and more alert, which in turn contributes to a younger-looking and well-rested overall facial appearance. Depending on the patient's unique needs, eyelid surgery may involve treating the upper eyelids, lower eyelids or both. Prior to treatment, Dr. Khalil meets with each patient individually and uses his expert knowledge and judgment to develop the specific details of treatment.
In addition to eyelid surgery, Dr. Khalil performs facelift, rhinoplasty and non-surgical cosmetic treatments such as Botox, Restylane and chemical peels to help patients turn back the clock. In some cases, these procedures can be combined to achieve comprehensive results. Dr. Khalil also offers a wide range of breast enhancement and body contouring procedures to help patients achieve their ideal physique.
To learn more about facelift with Dr. Khalil, schedule a consultation by calling (323) 856-1941 today.
More about Dr. A.J. Khalil
A.J. Khalil, MD, earned his medical degree from Wayne State University School of Medicine before completing three years of general surgery training and two years of plastic and reconstructive surgery training, with a focus on facial plastic surgery, rhinoplasty, trauma, plastic and reconstructive surgeries. In addition, Dr. Khalil completed a prestigious advanced plastic surgery training program at The Detroit Medical Center and a Fellowship in Aesthetic Breast and Body Contouring with acclaimed plastic surgeon Dr. Dennis Hammond at the Center for Breast and Body Contouring. Dr. Khalil has authored several peer-reviewed scientific articles on plastic and reconstructive surgeries. He is a member of several professional organizations including the American Society of Plastic Surgeons and American Society for Aesthetic Plastic Surgery.
You Can Email Dr. Khalil Here: