Dr. James Newman
Board-Certified Facial Surgeon

Palo Alto Location:
1795 El Camino Real, Suite 200
Palo Alto, California 94306
(800) 250-9572

San Mateo Location:
316 S. Eldorado Street, Suite 105
San Mateo, CA 94401
T: (800) 884-4081
F: (650) 340-9514
Serving patients seeking eyelid lift surgery in Palo Alto, San Mateo, Silicon Valley and throughout the San Jose / South Bay Area
James Newman, MD, FACS, is a skilled, fellowship-trained facial plastic surgeon performing cosmetic, reconstructive and non-surgical facial rejuvenation treatments. He is certified by both the American Board of Facial Plastic and Reconstructive Surgery and the American Board of Otolaryngology. In addition to treating patients at Premier Plastic Surgery, Dr. Newman is on faculty at Stanford University and serves as a consultant to Palo Alto Veteran's Hospital and Valley Medical Center in Santa Clara. Over the course of his impressive career, Dr. Newman has authored numerous scientific articles, and he routinely lectures on topics pertaining to facial plastic surgery both nationally and internationally. In addition, he holds advisory board positions with several plastic surgery development companies and has been named one of the Silicon Valley's Top Physicians by San Jose Magazine for two consecutive years.
Dr. Newman performs a variety of facial plastic surgery procedures, including blepharoplasty (eyelid lift) surgery. Eyelid lift surgery rejuvenates the upper and/or lower eyelids by reducing excess skin, muscle and fat caused by aging. During upper blepharoplasty, Dr. Newman creates the surgical incisions along the natural creases of the eyelids to minimize the visibility of postoperative scarring. Incisions for lower blepharoplasty are made along the lash line and smile creases of the lower eyelid and are essentially invisible to the naked eye after surgery. When performed by Dr. Newman and his medical team, eyelid surgery reverses visible signs of aging and provides patients with a more youthful, rejuvenated upper facial appearance. Eyelid lift surgery can also be combined with other facial rejuvenation procedures offered by Dr. Newman (facelift surgery, nose surgery, brow lift) and with non-surgical facial laser treatments or injectables.
In addition to eyelid surgery, Dr. Newman offers a number of other cosmetic procedures, including breast augmentation, liposuction and tummy tuck. As a qualified reconstructive surgeon, he also offers a range of restorative procedures such as reconstructive nose surgery, scar revision surgery, surgical excision of skin cancer, facial restoration surgery after injury and more.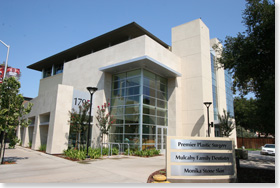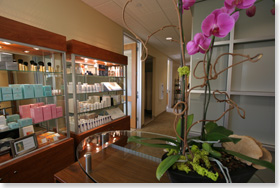 Premier Plastic Surgery is an accredited surgical facility.
Surgery is performed at Premier Plastic Surgery, an accredited surgical facility that is staffed with board-certified anesthesiologists for maximum patient safety. At Premier Plastic Surgery, Dr. Newman has access to some of the most advanced laser equipment and surgical technology available, which allows him to deliver safe, predictable and aesthetically pleasing surgical outcomes.
To schedule a one-on-one consultation with Dr. Newman and learn more about your facial plastic surgery options, please contact Premier Plastic Surgery in Palo Alto at (800) 250-9572 or in San Mateo at (800) 884-4081.
What Do Patients Say About Dr. Newman?
"Thank you very much for doing such a wonderful job on my surgery! I am extremely pleased with my results." —J.U. (Eyelid Rejuvenation)
"Thank you so much! After consulting with so many doctors, I realize how fortunate I was to have my surgery with you. My nose has never looked better." —P. J. (Rhinoplasty)
"I cannot express how much I appreciate all your kindness and how grateful I am for making my dream come true. Thank you so much!" —K.V. (Facial Rejuvenation)
"Thank you for taking me on as a patient, there are not many surgeons who are willing to correct prior results with cosmetic surgery. You gave me great comfort through the entire process and the results are beyond my expectations. Thank you and your staff for the excellent job." —M.U. (Revision Liposculpture)
More About James Newman, MD, FACS
James Newman, MD, FACS, completed his undergraduate education at Baylor University. He obtained his medical degree at the University of Texas. As a result of his excellent academic success, Dr. Newman was inducted into the prestigious Alpha Omega Alpha medical honor society and was honored with the Jimmy Dickinson Award. After medical school, Dr. Newman completed a five-year residency in head and neck surgery followed by fellowship training in facial plastic surgery at Stanford University. During this time, he successfully performed more than 1,000 surgical procedures. Dr. Newman is on staff at several hospitals in the South Bay Area, including Mills-Peninsula, El Camino and Stanford University hospitals. He is a Fellow of the American College of Surgeons, the American Academy of Otolaryngology-Head and Neck Surgery, the American Society for Lasers in Medicine and Surgery and the American Academy of Facial Plastic and Reconstructive Surgery. Dr. Newman is also a member of the Santa Clara Medical Association, the International Society of Hair Restoration Surgeons, and the World Society of Aesthetic Surgery, and is on the executive board for the California Society of Facial Plastic Surgery.
Dr. Newman also treats San Jose / South Bay facelift and nose surgery patients. Please visit the respective pages to learn more.
You Can Email Dr. Newman Here: